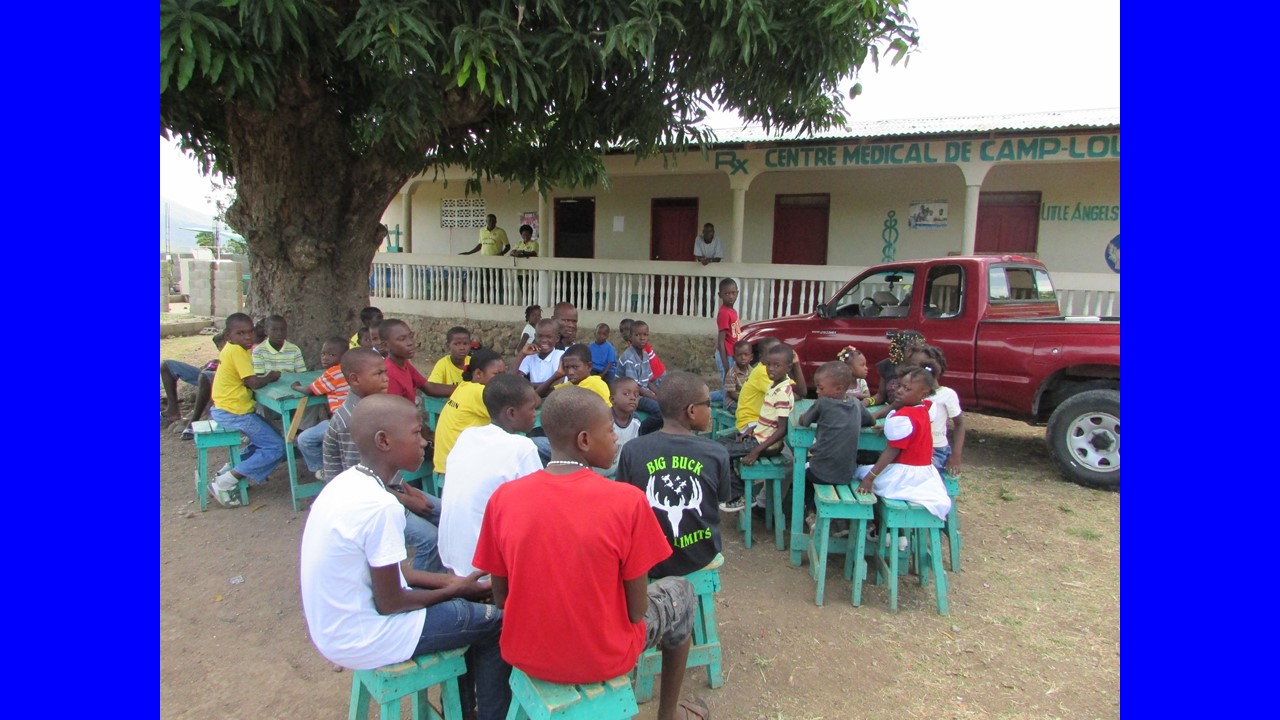 Little Angels of the Broken Wings, Inc.
is a 501-c-3 non profit charitable organization based in Maryland, Church of God (Cleveland, TN): World Missions Project Number 102-9288. Our mission is to care for and protect orphans as well as displaced children around the world. Currently, after the January 12, 2010 earthquake that devastated the island of Haiti, there are a number of children ages 3 to 12 years old who are genuinely homeless orphans, because they have lost both parents, as well as children orphaned by many other circumstances. We came together with a plan to build an orphanage located at Camp-Louise, 1st rural section of Acul-du-Nord, Cap-Haitien, Haiti to rescue some of these unfortunate children. The good news is that the land was donated for the facility, a well and pump have been installed, and as of November 2014 the medical building is in operation as an orphaned boys dormitory, and clinic. Most recently, we have farmed the orphanage land, which is now producing plantain and sweet potatoes in abundance! But we need your support to help feed and clothe the children, to complete the dormitory proper and other buildings, as well as to pay the medical and custodial staff. We have also expanded our vision to help the sick and needy of the larger Camp-Louise community. As of May 2015, we have been working to complete a much needed expansion of the medical building. We have been moving forward with other enhancements (see slide shows), but, as of June 2020, the additional dormitory space has yet to be added. Please, help us in any way you possibly can. Your contributions are 100% tax deductible. We thank you for any help you can provide. One easy way to help is to donate online by clicking the blue DONATE found button below. Or, you can mail us a check.
Donors who want to mail a check and/or money order can make it payable to Church of God World Missions and mail it to the address below: Church of God World Missions PO Box 8016 Cleveland TN 37320-8016
IMPORTANT: Please reference this project number on your check and/or money order: #102-9288

CONGRATULATIONS TO MATELSON UPON HIS HIGH SCHOOL  GRADUATION ON 20 AUGUST 2023!
CLARENCE STREET CHURCH OF GOD
MISSIONS PARTNERSHIP MESSAGE 5 FEBRUARY 2023
PASTOR JOSEPH & SIS. JOSELINE PIERRE, FOUNDERS OF THE LITTLE ANGELS OF THE BROKEN WINGS HAITIAN ORPHANAGE
sunday_02_04_2023-cscog.mov (720p)
from
Clarence Street Church of God
on
Vimeo
.
CLARENCE STREET CHURCH OF GOD
MISSIONS PARTNERSHIP SERVICE 25 JULY 2021
Communion Health Plan 2 7-11-21 from Clarence Street Church of God on Vimeo.
IMPROVED SECURITY (June 20, 2020): Your donations are making it possible for us to better protect the children and facilities with a block wall. Thank you and Lord Bless!
[youtube=http://www.youtube.com/watch?v=Ec1iDIElbB0&w=480&rel=0]
Bro. Joseph Pierre, Pastor of First Church of God, Camp-Louise, Haiti – Missions: The Key to Church Growth – You do not have to go overseas to be a missionary. Start where you are and share the Gospel with neighbors, co-workers, at work and at school. Preach or pass out tracts in the streets. What are you doing between Sundays with the power that God has given you? Matthew 28: 18-20; Acts 1:8; Acts 2: 38 ff    June 9, 2019
MOTHER'S DAY 2018 AT FIRST CHURCH OF GOD OF CAMP-LOUISE-HAITI
Hear the orphans sing during the Mother's Day Service at First Church of God in Camp-Louise, Haiti. First, the children sing that "Jesus loves all the little children. Listen to what he says: whether white or black, Jesus loves all the little children." (Kreyòl/French) Then, Mackinston sings "Look at me who has no mother. Everyone is celebrating their mother. Where can I go to sit and cry? My heart is broken to the point of being torn in two. I am singing for you, Mama. I am dancing for you Mama, to make you happy. Look at me who has no mother. Everyone is celebrating their mother. Where can I go to sit and cry? My heart is broken to the point of being torn in two." (Kreyòl)